The primary goal of any marketing strategy is to identify your customers' needs. And, it is so, because customers play a crucial role in developing a product and marketing a campaign.
Consumers like to talk, and word of mouth is one of the best ways to market a product. In this world of fast worldwide communication, word of mouth has a snowball effect.
Hence, it is essential for you to gain customer feedback about your product. Customer reviews help you improve local SEO and enables you to do guest experience management and customer experience analysis.
An onlinecustomer review can affect your business's SEO more than you realize. Hence,online reputation management should be a significant part of every business' off-page SEO strategy in this digital era. To better understand this, it is important to first understand what is a customer review
What Is A Customer Review?
A customer review is when your customers share their opinions about the experiences they had with your brand. It is a piece of helpful information that you can use to adjust your business to fit their needs more accurately and, to improve local SEO.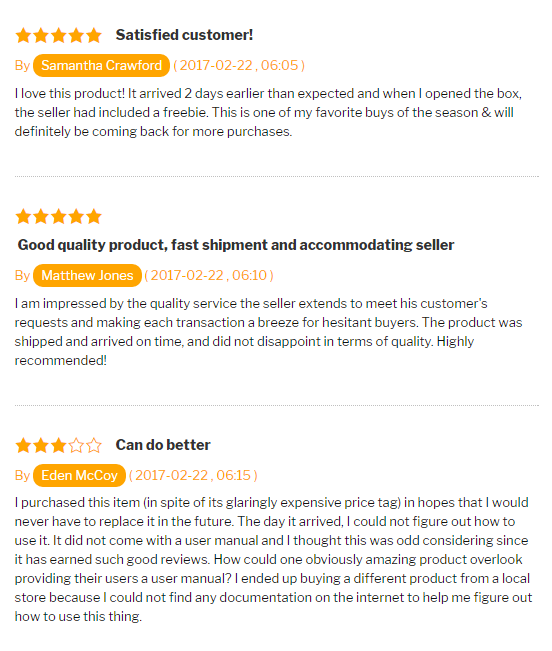 Top performing businesses understand the role that customer feedback plays in business. That is why they consistently listen to the opinions of their clients. Not only do they search for the clients' feedback, but they deliberately ask for them using different kinds of surveys. Here's why:
Read Related Blog: Impact of a Customer Feedback Management Tool on Business Efficiency
3 Reasons Why Getting Customer Feedback Is Important For A Business In 2019
1. It Shows You Value Their Opinion
You give your customers importance by asking them for their feedback. You involve them in shaping your future products. Listening to them helps you create stronger relations with them. And, they feel like your primary goal is to solve their problems and fulfill their needs.
2. It Is A Reliable Source of Information To The New Consumers
In this digital age, consumers do not trust commercials but social media and Google! 92% of consumers read online reviews and testimonials when considering a purchase, whereas 88% of them believe online reviews as much as personal recommendations
Opinions provided by other, older customers are the most reliable source of information for a product these days. For example, you can look at Airbnb or Uber. They do their best to ensure that poor reviews will be excluded from Google search and social media.
3. More Reviews = More Ratings = Higher Ranking
Online review analysis is a crucial part of improving local SEO. Increasing both the quality and the rating will help you to secure a spot in the top 3 of Google searches. And, the top 3 ranked listings on Google's local search results in most of the traffic. This way, people looking for specific products online will find your product first.
Download our free guide on "How To Leverage Customer Feedback To Improve Guest Appearance and Increase Revenue"
If you want success in today's world, the mantra is simple: Stay on top of Google search results. Remember, customer feedback is everywhere; what matters is how you use it.
You Got the Feedback, What Should You Do Next
To make the most of your customer feedback, contact Tatvam. It will help you with customer feedback management, online review management, and online reputation management.
The number 1 position in Google gets 33% of the total search traffic. And, Tatvam enables you to stay on top of the Google search results to grow your reach exponentially.
Customer's voice is priceless for a business, but how you use it is more important, so never stop listening!
Tim works as the VP of Sales and Marketing at NetServ Applications and oversees the development and client relationships for NetServs' proprietary product Tatvam. Tatvam is a Customer Feedback Analytics product that leverages technologies like Machine Learning and AI to help companies monitor and improve their customer experience. Tim both manages the product log and the development teams to ensure they are consistently innovating and delivering a true value-add product, as well as continuously works with Tatvam customers to help them improve their data strategies and customer experiences.